Just picked up a few new reads…..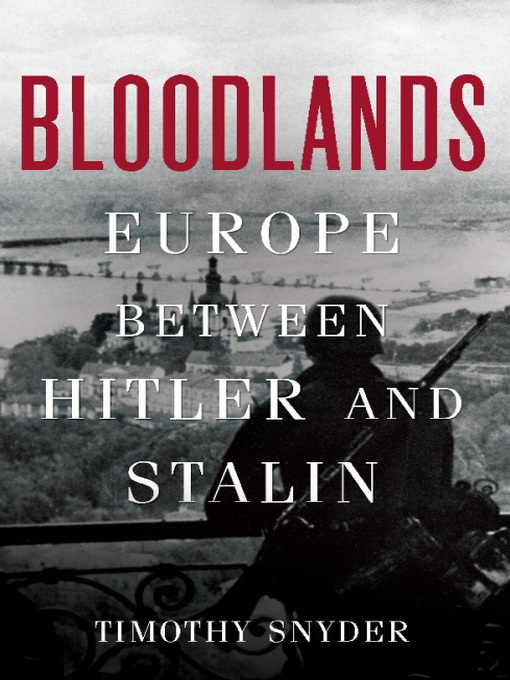 Brute: The Life of Victor Krulak, U.S. Marine
 by Robert Coram
Bloodlands: Europe Between Hitler and Stalin
 by Timothy Snyder
Robert Coram, whom I had the pleasure of meeting at Boyd '07, has a new biography of the legendary military visionary and Marine Lt. General Victor "Brute" Krulak, reviewed here by Max Boot and here by Tony Perry (Hat tip to Dr. Chet Richards). Having thumbed a few pages, Krulak appears a complicated man – gifted, dauntless and extremely driven but also possessed of a mean streak, edging at times toward petty cruelty.
Bloodlands I intend to read in a "Hitler-Stalin/Nazi-Soviet Comparison" series along with Richard Overy's The Dictators: Hitler's Germany, Stalin's Russia
, Robert Gellately's Lenin, Stalin, and Hitler: The Age of Social Catastrophe
, Richard J. Evans' The Third Reich at War
 and Alan Bullock's classic dual biography Hitler and Stalin: Parallel Lives
.  I'd also recommend, for those with the stomach for historiographic commentary, Robert Conquest's Reflections on a Ravaged Century
 and John Lukac's The Hitler of History
CURRENTLY READING:
Human Face of War
 by Jim Storr
After reading approxmately a third of The Human Face of War by  Dr. Jim Storr, a retired Lt. Colonel, King's Regiment and an instructor at the UK Defence Academy, I will say that if you are going to read only one book on modern military thought this year, it should be The Human Face of War. It's that good.
Aside from a reflexive hostility toward John Boyd's OODA Loop ( though not, strangely enough, toward the substantive epistemology advocated by Boyd that the diagram represented), Storr's tome is an epistle of intellectual clarity on military theory that deserves to be widely read.
ADDENDUM:
NDU Press recommends, and I concur, this review of The Human Face of War by Col. Colonel Clinton J. Ancker III. Ancker, like Storr, is an expert on military doctrine, so it is a well-informed review by a professional peer.