Wednesday, June 24th, 2009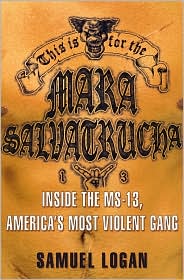 Samuel Logan, security specialist, author and sometime ZP commenter has a new book that will be released in early July, This Is for the Mara Salvatrucha: Inside the MS-13, America's Most Violent Gang
.
Sam sent me an advance copy and I have read the first few chapters, which begins at the most granular level of an outlier cell or street
crew of MS-13 and a crime committed that ultimately allows law enforcement to penetrate what had been a highly secretive, as well as extremely violent, transnational street gang rooted in Central American immigrant communities.
The book is tightly written with an edge for gritty reality and will be of great interest to readers interested in criminal networks and insurgency; I will be looking to see how, from Logan's depiction, MS-13 meshes with John Sullivan and Robert J. Bunker's concept of 3rd Generation gangs.