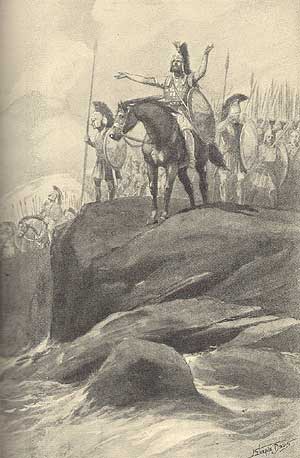 Courtesy of our moderator, Lexington Green.
Xenophon Roundtable: Revised Schedule
The revised schedule is for our roundtable on Xenophon's Anabasis of Cyrus is as follows:

Week of September 13, 2009: Posts re: Books I, II, III and IV
Week of September 20, 2009: Posts re: Books V, VI and VII
Week of September 27, 2009: "Wrap up" Posts: Opinions, Analysis, Conclusions.

Late in August I will post the list of contributors.

I am starting to think about what I am going to write, having recently finished my first read-through of the Anabasis.

I have been looking at two books on background, which I am finding of interest: Xenophon's Retreat: Greece, Persia, and the End of the Golden Age by Robin Waterfield, and Xenophon and the Art of Command by Godfrey Hutchinson. I also hope to read at least some portions of Xenophon's The Education of Cyrus, also translated by Prof. Wayne Ambler.

(I linked earlier to this review of the Anabasis from Military Review.)

ALSO: A "distant early warning" for our readers. The current thinking is that we will have roundtable discussion of The Federalist Papers in the Winter of 2010, and we will have a roundtable discussion of selections from the Arthashastra of Kautilya (The Clausewitz, Sun Tzu and Machiavelli of India all in one) in the Fall of 2010.

Two good articles about Kautilya's Arthashastra.
As with the last event, we will have a strong group of roundtable participants. The list is not finalized but it is already looking good so if you have an interest in participating and have not yet contacted Lex, please do so at Chicago Boyz or leave a comment here.