ChicagoBoyz.net has hit in the last few weeks a) The Glen Beck Program, b)  Rush Limbaugh and now, c) National Review. Jeez, a conservative trifecta if there ever was one.
James Bennett, who is in my experience, an extremely smart man and the author of The Anglosphere Challenge: Why the English-Speaking Nations Will Lead the Way in the Twenty-First Century
, collaborated on the featured cover article in the latest edition of National Review.
 Lexington Green has the details:
Jim Bennett Article on Cover of National Review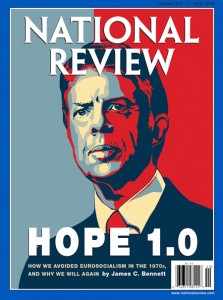 The current issue of National Review features an article by my future co-author Jim Bennett:

For decades, America had been on a course toward a more centralized society. But 1980 – with the arrival of Reagan and the departure of Carter – marked the point at which the nation reversed course. Thenceforth it would be headed in the opposite direction, toward a new vision of individualism and decentralism.

I have read Jim's piece in draft, and I strongly suggest you read it.
I second.
Congratulations to Mr. Bennett!