JUNE 6, 1944…..72 Years Ago Today….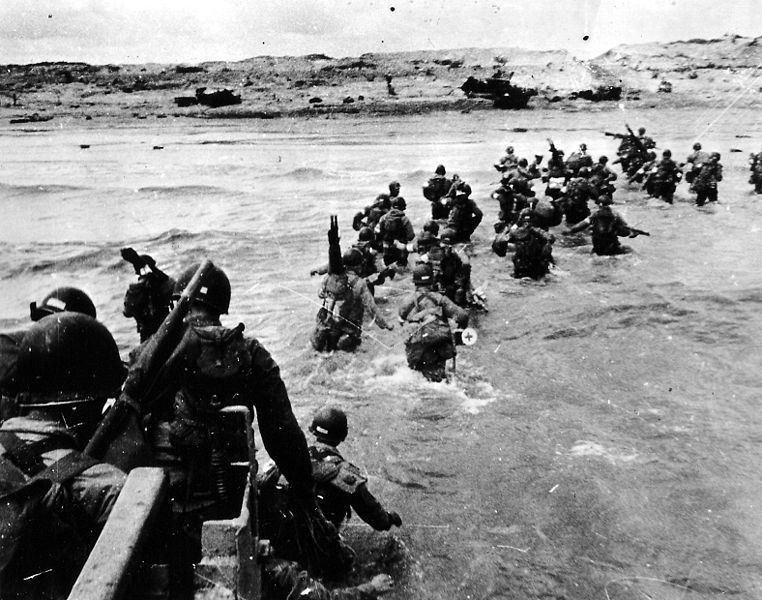 Seventy-two years ago over 9,000 American men, some hardly older than boys, laid down their lives on the beaches of Normandy in the greatest military operation in the history of the world. The white crosses stand row upon row in Colleville-sur-Mer,  in silent testimony of their supreme sacrifice.
Others who scrambled ashore on bloody Omaha Beach, or who climbed the rocky cliffs of Pointe du Hoc or who parachuted behind enemy lines with the 82nd and 101st Airborne lived to fight their away across France and across the Rhine into the heartland of Germany to break the power of the Third Reich forever. Others who survived the terrible ordeal of D-Day and fought on were not so lucky and did not come home.
Brigadier General Theodore Roosevelt, Jr. at age fifty-six was the oldest man, the highest ranking soldier and the only general officer in the first wave of the Normandy invasion. Roosevelt was seriously ailing and relied on a cane; he had been refused permission to join the landings twice before his superiors finally relented. Roosevelt's 8th Regiment missed their objective at Utah Beach by a mile. There was no cover from withering German fire or prospect of swift reinforcement. Allied bombardment there had been light and the men had to cross hundreds of yards of beach to engage the enemy. When nervous subordinates asked if they should re-embark, Roosevelt seized the moment:
"We'll start the war from right here!"
Heedless of enemy fire Roosevelt strode up and down the beach, reorganized units, directed landings and led his men in battle. By the end of the day the 8th Regiment had taken their sector and Roosevelt had earned the Medal of Honor.
He died forty-four days later during the Battle of France, one among many American GIs.
The "Greatest Generation" is receding into history in increasing numbers with each passing year but their deeds are destined to become legend.