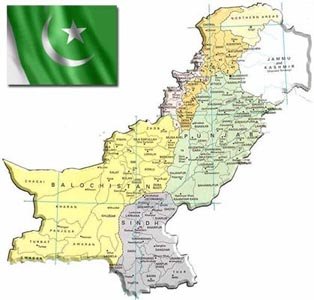 Reader Isaac, points to an excellent analytical overview of Pakistan's national nervous breakdown at Dawn.com, by Nadeem F. Paracha. It is a lengthy but stupendous post with some 200 + comments:
There is nothing new anymore about the suggestion that over a span of about 30 odd years, the Pakistani military and its establishmentarian allies in the intelligence agencies, the politicised clergy, conservative political parties and the media have, in the name of Islam and patriotism, given birth to a number of unrestrained demons which have now become full-fledged monsters threatening the very core of the state and society in Pakistan.

A widespread consensus across various academic and intellectual circles (both within and outside Pakistan), now states that violent entities such as the Taliban and assorted Islamist organisations involved in scores of anti-state, sectarian and related violence in the country are the pitfalls of policies and propaganda undertaken by the Pakistani state and its various intelligence agencies to supposedly safeguard Pakistan's 'strategic interests' in the region and more superficially, Pakistan's own ideological interest.

….The 1980s and the so-called anti-Soviet Afghan jihad is colored with deep nostalgic strokes by the Islamists and the military in Pakistan. Forgetting that the Afghans would have remained being nothing more than a defeated group of rag-tag militants without the millions of dollars worth of aid and weapons that the Americans provided, and Zia could not have survived even the first MRD movement in 1981 had it not been due to the unflinching support that he received from America and Saudi Arabia, Pakistani intelligence agencies and its Afghan and Arab militant allies were convinced that it was them alone who toppled the Soviet Union.

The above belief began looking more and more like a grave delusion by the time the Afghan mujahideen factions went to war against one another in the early 1990s and Pakistan was engulfed with serious sectarian and ethnic strife. But the post-1971 narrative that had now started to seep into the press and in many people's minds, desperately attempted to drown out conflicting points of views about the Afghan war by once again blaming the usual suspects: democracy, secularism and India.

Many years and follies later, and in the midst of unprecedented violence being perpetrated in the name of Islam, Pakistanis today stand more confused and flabbergasted than ever before.

The seeds of the ideological schizophrenia that the 1956 proclamation of Pakistan being an 'Islamic Republic' sowed, have now grown into a chaotic and bloody tree that only bares delusions and denials as fruit.
Read the rest here.
There has been an ocean of ink spilled about the Obama administration's Hamlet-like deliberation over a war strategy for Afghanistan and on the implications of agreeing to 30,000 rather than the 40,000 new troops for the "Afghan Surge", as Gen. McChrystal had originally requested. The 10,000 difference in boots is not the salient strategic point, though it is the one that excites political partisans on the Right, Left and anti-war Far Left. It also distracts us from debating our fundamental strategic challenge.
The horns of our dilemma is that our long time "ally" whom we have hitched ourselves to in a grand war effort against revolutionary Islamist terrorism is not our ally at all, but a co-belligerent with our enemy. By every policy measure that matters that causes the United States – justifiably in my view – to take a tough stance against North Korea and Iran, applies in spades to Islamabad. Yet none dare call Pakistan a rogue state.
It is the elephant in our strategy room – if the elephant was a rabid and schizophrenic trained mastodon, still willing to perform simple tricks for a neverending stream of treats, even as it eyes its trainer and audience with a murderous kind of hatred. That Pakistan's deeply corrupt elite can be "rented" to defer their ambitions, or to work at cross-purposes with Pakistan's perceived  "interests", is not a game-changing event. Instead, it sustains and ramps up the dysfunctional dynamic we find ourselves swimming against.
We play a bizarre game, our leaders being more concerned about Pakistan's "stability" than Pakistan's own generals and politicians who egg on, fund and train the very militant Islamist groups spreading death and chaos inside Pakistan and beyond its borders. Why can we not find Osama bin Laden or Mullah Omar ? Because they are high value clients of the ISI which is no more likely to give them up than the KGB was to hand over Kim Philby.  
Until America's bipartisan foreign policy elite grapple with the fact – and it is an easily verifiable, empirical, fact – that Pakistan's government is in chronic pursuit of policies that destabilize Central Asia, menace all of Pakistan's neighbors, generate legions of terrorists and risk nuclear war with India, no solutions will present themselves.
A strategy will only have a chance of success when it is grounded in reality.