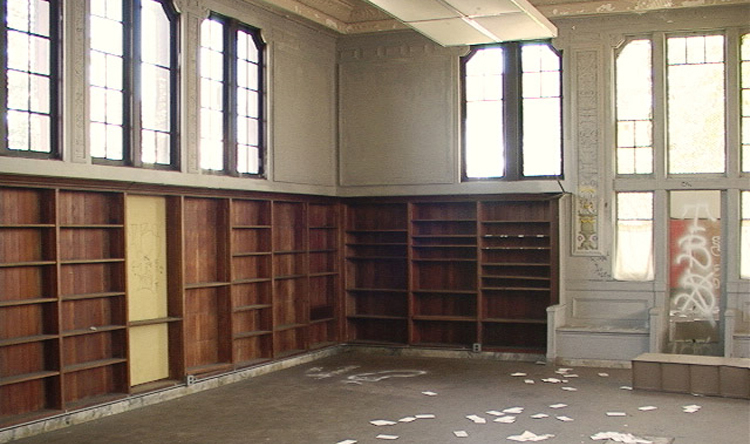 In one of those "Socrates lamenting how the young folk can't memorize and recite worth a damn because of all the time they waste reading!" moments, The New York Times hosted a debate of cultural significance. The authors are all thoughtful and reasonable in their contentions:
Do School Libraries Need Books?
Keeping traditional school libraries up to date is costly, with the constant need to acquire new books and to find space to store them. Yet for all that trouble, students roam the stacks less and less because they find it so much more efficient to work online. One school, Cushing Academy, made news last fall when it announced that it would give away most of its 20,000 books and transform its library into a digital center.

Do schools need to maintain traditional libraries? What are the educational consequences of having students read less on the printed page and more on the Web?
I spend a copious amount of time reading online with a PC, Blackberry, netbook and a Kindle but there's something sad and sterile about the concept of a library without books. It is like calling a room with an iPod plugged into a Bose a "concert hall".
This isn't an antiquarian reaction. I am enthusiastic about the potential and the evolving reality of Web 2.0 as a powerful tool for learning, to set "minds on fire", to facilitate mass collaboration in open-source  communities of practice, to lower costs and increase access to the highest quality educational experiences available and to drastically re-engineer public education. I am all for investing in "digital centers" for the "digital natives" – hell, all students should be carrying netbooks as a standard school supply! The capacity to skillfully navigate, evaluate and manipulate online information is not an esoteric accomplishment but an everyday skill for a globalized economy. Going online ought to be a normal part of a child's school day, not a once a month or semester event.
I am also sympathetic to the economic questions facing school librarians – and not merely of cost, but of physical space. School library budgets are shrinking or nonexistent even as digital data compression and processing power follows Moore's Law. Digital investment, especially when most vendors that specialize in k-12 educational markets feature egregiously oligopolistic, rip-off, prices, gives librarians an orders of magnitude larger "bang for the buck".
But abandoning books entirely is not the way to go. Cognitively, reading online is likely not the same at the neuronal level as reading from a book. For literate adults, that may not matter as much as for children who are still in the complicated process of learning how to read. The key variable here may be visual attention moreso than particular cognitive subsets of reading skills, but we don't actually know. Science cannot yet explain the wide developmental and methodological preference variation  among students who learn or fail to learn how to read using the ancient dead tree format. To quote neuroscientist, Dr. Maryanne Wolf:
….No one really knows the ultimate effects of an immersion in a digital medium on the young developing brain. We do know a great deal, however, about the formation of what we know as the expert reading brain that most of us possess to this point in history.

In brief, this brain learns to access and integrate within 300 milliseconds a vast array of visual, semantic, sound (or phonological), and conceptual processes, which allows us to decode and begin to comprehend a word. At that point, for most of us our circuit is automatic enough to allocate an additional precious 100 to 200 milliseconds to an even more sophisticated set of comprehension processes that allow us to connect the decoded words to inference, analogical reasoning, critical analysis, contextual knowledge, and finally, the apex of reading: our own thoughts that go beyond the text.

This is what Proust called the heart of reading – when we go beyond the author's wisdom and enter the beginning of our own.

I have no doubt that the new mediums will accomplish many of the goals we have for the reading brain, particularly the motivation to learn to decode, read and experience the knowledge that is available. As a cognitive neuroscientist, however, I believe we need rigorous research about whether the reading circuit of our youngest members will be short-circuited, figuratively and physiologically.

For my greatest concern is that the young brain will never have the time (in milliseconds or in hours or in years) to learn to go deeper into the text after the first decoding, but rather will be pulled by the medium to ever more distracting information, sidebars, and now,perhaps, videos (in the new vooks).

The child's imagination and children's nascent sense of probity and introspection are no match for a medium that creates a sense of urgency to get to the next piece of stimulating information. The attention span of children may be one of the main reasons why an immersion in on-screen reading is so engaging, and it may also be why digital reading may ultimately prove antithetical to the long-in-development, reflective nature of the expert reading brain as we know it.
I could make a cultural argument about the tactile pleasure of book reading. Or the intrinsic role of books as the cornerstone of cultivating a "life of the mind" . Or that book-bound literacy is a two thousand year old element of Western civilization that is worth preserving for its own sake – which it is. However, such cultural arguments are not politically persuasive, because if you understand them already then they do not need to be made. And if you do not understand them from firsthand experience, then you cannot grasp the argument's merit from a pious secondhand lecture.
Which leaves us with an appeal to utilitarianism; bookless schools might result in students who read poorly, which wastes money, time, opportunities and talent. Online mediums should be a regular part of a student's diet of literacy but without books as a component of reading, a digital environment may not make for a literate people.