Monday, July 18th, 2011
As a rule, I eschew political news here but I think this one merits an exception.
The big story of the moment for political junkies is the illegal hacking of cell phones allegedly carried out by employees of one of Rupert Murdoch's British tabloid newspapers. Not just any phones either, the cell phones of British VIPs, political bigwigs, celebrities and perhaps, some 9/11 victims. All of the details have not been revealed, but there are police investigations, one of News Corp's top employees has been arrested, parliamentary inquiries and demands by Murdochs political enemies there to have the British government "dismantle his empire".
Rupert Murdoch is not, it must be said, a cuddly public figure. He is a press baron throwback to the era of Joseph Pulitizer and William Randolph Hearst and has a reputation for ruthlessness in business and overweening ambition in politics to gain personal influence for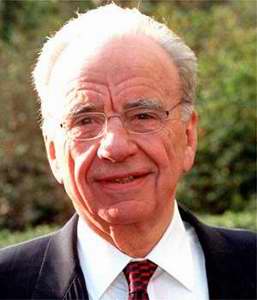 promoting his conservative views. He is a hate figure to Democratic and liberal partisans of the intolerant kind who see political disagreement as evidence of evil and would like FOXnews, one of Murdoch's most influential and profitable properties, to be suppressed by the FCC (though Murdoch's right-wing views did not preclude him from trying to cozy up to China's communist leadership). These folks are naturally celebrating Murdoch's dilemma and hoping for a collapse – and Murdoch and his son James are in genuine jeopardy, possibly legal, certainly political and commercial.
Much indignant outrage is being heaped on Murdoch's head now by the enlightened; I have no love for phone hacking and I definitely agree that and violating people's privacy is a crime that ought to be punished by sending those responsible to prison. I am curious though, how this position is squared morally with the fact that the two liberal news outlets most triumphant about the News Corp scandal, The New York Times and The Guardian, themselves recently were knowing accessories to the much more serious crime of espionage.
Actually calling these papers criminal accessories is not a full picture of their behavior during the Wikileaks document dump; it is more accurate to say that they reaped corporate financial benefit from facilitating espionage, grand theft and treason, for which their editors have not faced any legal consequences. 
Yes, treason. Look up the definition.
Much unlike the nobody Army private and patsy, Bradley Manning, who is likely to face a sentence of life in prison. Good thing for  Manning that he only outed a vast array of US intelligence and diplomatic secrets and exposed ordinary, unimportant, unprotected Afghans and Iraqis to murderous retribution by Islamist degenerates. If Manning had phonehacked a Labor MP or a wealthy, airhead celebrity – you know, really important and beautiful people – the NYT and the Guardian would be calling for a death sentence. It is a most curious scale of values.
Go back and look at which partisan blowhards with columns and bylines and talking head opinion shapers thought Wikileaks was just great and defended Julian Assange and what their opinion is on phonehacking today and see if any – any at all – evidence some consistency. Or awareness of the relative magnitude of each crime – and crime is the right word, neither of these scandals are mere pranks, but one is important to national security and the other, so far, is only interesting.
There's something amiss here in the way that partisan politics and a seamy, not too subtle, undercurrent of class entitlement have warped the perspective and sense of proportion of some people who are smart enough to know better.