Sunday, June 5th, 2016
[by Mark Safranski / "zen"]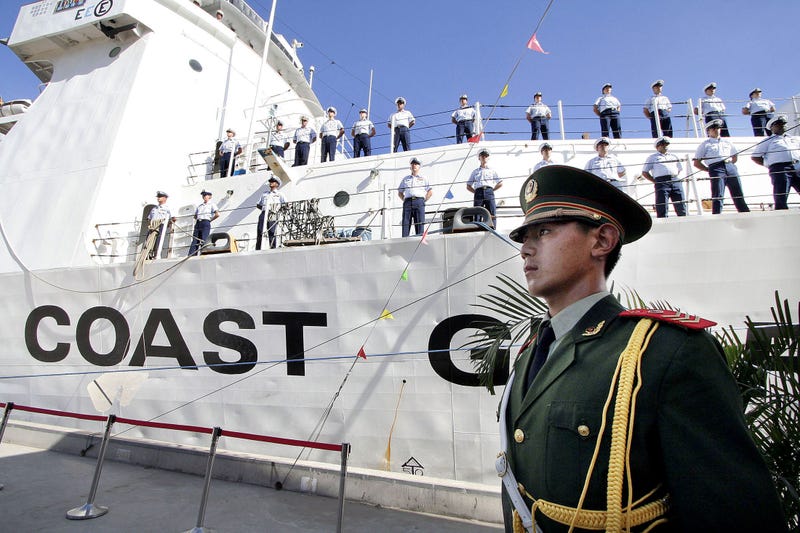 China's Blue Water "Coast Guard"
T. Greer of Scholar's Stage has an outstanding post on the strategic reality of China and American foreign policy. It is a must read:
"China Does Not Want Your Rules Based Order"
…..McCain's words echo those spoken by Secretary of Defense Ash Carter last week to the graduating midshipman at Annapolis. Read them both. Compare what they say. Behold the quickly crystallizing American narrative on China. This is a bipartisan message. It will be the starting point of a President Clinton's policy. Whether a President Trump will endorse it is hard to say. In either case, it is a narrative whose momentum is building.

There is much that is good in this narrative. McCain proclaims that "no nation has done as much to contribute to what China calls its "peaceful rise" as the United States of America." He is right to do so. No nation has done more to enable China's rise than America has. No country's citizens have done more for the general prosperity of the Chinese people than the Americans have. This is true in ways that are not widely known or immediately obvious. For example, the role American financiers and investment banks played in creating the architecture of modern Chinese financial markets and corporate structures is little realized, despite the size and importance of their interventions. Behind every great titan of Chinese industry—China Mobile, the world's largest mobile phone operator, China State Construction Engineering, whose IPO was valued at $7.3 billion, PetroChina, the most profitable company in Asia (well, before last year), to name a few of hundreds–lies an American investment banker. I do not exaggerate when I say Goldman Sachs created modern China. [2] China has much to thank America for.

However, I cannot endorse all that is included in this emerging narrative, for part of it is deeply flawed. The flaw may be by design; if the purpose is to stir cold hearts and gain moral admiration of others, such flaws can be excused–that is how politics works. But this sort of things can only be excused if those delivering the speeches do not take the implications of their own words seriously when it is time to make policy. 

I speak of  China's "choice." The thread that runs through all of these talks is that the Chinese have yet to choose whether they aim for order or disruption, the existing regime or the chaos beyond it. The truth is that the Chinese have already chosen their path and no number of speeches on our part will convince them to abandon it. They do not want our rules based order. They have rejected it. They will continue to reject it unless compelled by overwhelming crisis to sleep on sticks and swallow gall and accept the rules we force upon them. 

China has made its choice. The real decision that will determine the contours of the 21st century will not be made in Beijing, but in Washington.
T. Greer, in my opinion is correct but this is not a message Beltway insiders are wont to harken – making strategic choices is for lesser nations. America is so rich, powerful, unipolar, indispensable, exceptional that we can pursue all objectives, in every corner of the globe, without choosing between the vital and the trivial. We can do this even if our goals are contradictory and ill-considered or serve manly as a prop for domestic political disputes, the business interests of political donors or career advancement of apparatchiks and politicians. We can safely delay and indulge in fantasy.
If this was true once, it is less so today and will be still less twenty years hence.
Greer sharpens his argument:
….Last spring it finally sunk in. Chinese illiberalism not only can endure, it is enduring. The old consensus cracked apart. No new consensus on how to deal with China has yet formed to take its place.

But old habits die hard. We see this at the highest levels of policy, as in the McCain speech, where American policy is justified in terms of giving China a chance to choose the right. The same spirit is invoked further down the line. Ash Carter, for example, recently described American tactics in the South China Sea as a "long campaign of firmness, and gentle but strong pushback… [until] The internal logic of China and its society will eventually dictate a change." [3] In other words, American policy is a holding action until China sees the light.

What if they never do?

The Chinese believe that our international order is a rigged system set up by the imperial victors of the last round of bloodshed to perpetuate the power of its winners. They use the system, quite cynically, but at its base they find it and its symbols hypocritical, embarrassing, outrageous, and (according to the most strident among them), evil. In their minds it is a system of lies and half-truths. In some cases they have a point. Most of their actions in the East or South China Seas are designed to show just how large a gap exists between the grim realities of great power politics and soaring rhetoric Americans use to describe our role in the region

….In simpler terms, the Chinese equate "rising within a rules based order" with "halting China's rise to power." To live by Washington's rules is to live under its power, and the Chinese have been telling themselves for three decades now that—after two centuries of hardship—they will not live by the dictates of outsiders ever again.

The Chinese will never choose our rules based order. That does not necessarily mean they want to dethrone America and throw down all that she has built. The Chinese do not have global ambitions. What they want is a seat at the table—and they want this seat to be recognized, not earned. That's the gist of it. Beijing is not willing to accept an order it did not have a hand in creating. Thus all that G-2 talk we heard a few years back. The Chinese would love to found a new order balancing their honor and their interests with the Americans. It is a flattering idea. What they do not want is for the Americans to give them a list of hoops to jump through to gain entry into some pre-determined good-boys club. They feel like their power, wealth, and heritage should be more than enough to qualify for  automatic entrance to any club.
Read the rest here.
Richard Nixon, who was the external strategic architect of China's rise in order to use China as a counterweight against an increasingly aggressive Soviet Union, faced a similar situation that Greer described above with the Soviets. Nixon's détente summits with the Russians were diplomatic triumphs where LBJ's summit at Glassboro with Kosygin had been a failure because Nixon shrewdly understood Soviet psychological insecurity, a deep sense of paranoid inferiority and the hunger for respect as a superpower equal of the United States. Leonid Brezhnev, Kosygin's ascendant rival was desperate for this American political recognition and Nixon and Kissinger played this card (along with the geostrategic shock of the China opening) to wrest concessions in arms control and restraint (for a time) in Soviet behavior from Brezhnev.
Playing this card is not possible with China.
While there seems some emergent rivalry between China's prime minister Li Keqiang and China's President Xi Jinping that loosely mirrors the Kosygin-Brezhnev dynamic, the analogy is otherwise a poor one. Despite sharing Marxist-Leninist DNA in their institutional structure, China is not at all like the Soviet Union in terms of culture, history or ambitions. The Chinese not only lack the national inferiority complex that drives the Russian psyche, they suffer from the opposite condition of a superiority complex that outstrips their actual capacity to project military or even economic power. This has given rise to popular frustration and manic nationalism in China, with bitter recriminations about "small countries" and "hegemonic powers". It also has created a strategic lacunae where China has in a short span of time gone from enjoying good relations with most of the world to a state of habitually irritating almost all of its neighbors and periodically threatening two great powers – rising India and Japan – and one superpower, the United States.
In short, China already is as T. Greer argued, a committed revisionist power.
We cannot buy off or bribe China. Unlike Brezhnev who needed American credits for his domestic economic program to cement his place as supreme leader, Xi Jinping has carried out a ruthless purge of the party and government under the pretext of an anti-corruption drive. Xi does not need or want our help in his domestic squabbles. Nor would he or another Chinese leader be content with symbolic gestures of Beijing's "parity" with Washington. "Parity" will not satisfy Chinese leaders unless it comes with attendant symbolic humiliations for America and an American retreat from Asia. Forever.
If American leaders do not wake up to this reality and do so quickly then it is time for a new leadership class with less sentimentality and clearer vision.